About this Page
The Centers for Medicare & Medicaid Services (CMS) follows standard guidelines for measure and instrument development for the Hospice Quality Reporting Program (HQRP). This webpage is intended to capture the full life cycle of measure development, including important links to related sites that contribute to the process.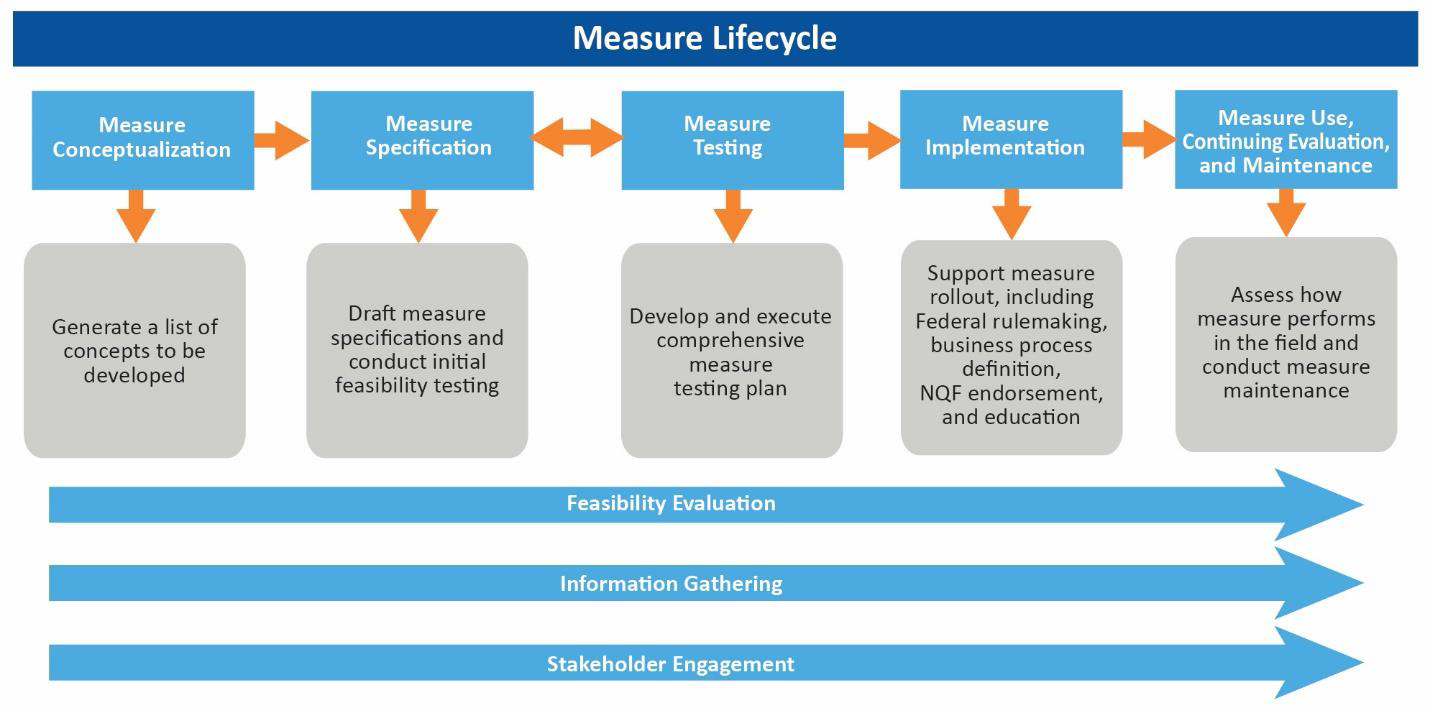 Graphic: CMS Measure Management System (MMS) Blueprint v16.0, September 2020, pg. 13
Quality Measures Blueprint: As part of CMS' Measure Management System Blueprint process, CMS convenes a Technical Expert Panel (TEP) to assist in the development of quality measures. As stated in the Blueprint, "TEPs should include stakeholders such as persons/family members and providers as well as recognized experts in relevant fields such as clinicians, statisticians, quality improvement experts, methodologists, and other SMEs. TEP members are chosen based on their expertise, personal experience, diversity of perspectives, background, and training. The membership should also reflect geographic and organizational diversity as well as the variety of organization types that may have an interest in the topic."
National Quality Forum (NQF) and Pre-rulemaking: NQF is a not-for-profit, nonpartisan, membership-based organization that facilitates evidence-based and consensus-based approaches to endorsing quality measures. As part of the pre-rulemaking process, CMS posts a list of quality measures that  the Department of Health and Human Services (HHS) is considering adopting (called the "Measures Under Consideration" or MUC list) (PDF) during late fall or early winter each year. Measures on the MUC list also moves through consideration or endorsement processes at the National Quality Forum (NQF). Following the publication of the MUC list, CMS participates with multiple stakeholders in the NQF-convened Measure Applications Partnership (MAP) meetings to publicly discuss the measures on the MUC list. To access the MUC list or documentation of MAP meetings, please visit NQF's website; to listen to MAP meetings and submit comments, please visit this page for NQF events. CMS encourages the public to review these materials and submit comments. Comments are reviewed along with the MAP recommendations before implementing any new quality measure. In this way, your valuable feedback is considered and becomes part of the ongoing measure development process. See figure 2 below.
Figure 2: Pre-Rulemaking Process
Graphic: Blueprint for the CMS Measures Management System v14.1, February 2019, pg. 38
CMS Rulemaking: Some of the measures proposed on the MUC list and discussed at the MAP meeting will enter the federal rulemaking cycle. To view a Notice of Proposed Rulemaking, please visit the CMS.gov Hospice Center. During each fiscal year cycle of proposed rulemaking, CMS solicits public comment for 60 days from the date of display.
CMS encourages your participation in rulemaking. To submit comments, please visit Regulations.gov.
Public Reporting: Once quality measures are adopted by the HQRP, CMS will publicly report them on Care Compare. More information about public reporting is available on the Public Reporting: Background and Announcements webpage.
The HQRP follows these processes to develop quality measures, all of which encompass regular opportunities for provider and stakeholder engagement. Engagement opportunities are announced on the  Hospice QRP Announcements & Spotlight webpage, broadcast on the listserv, and can be found in the download section on the Provider and Stakeholder Engagement webpage.